RAF 75th Anniversary Commemorative Scroll
This piece was the first work of substance I was asked to produce. At the time I was serving on II(AC) Squadron as a Tornado Navigator at RAF Marham, which had been chosen to host the 75th Anniversary of the RAF. I had previously only done a few works for friends, my own enjoyment and occasionally some minor works for the Officers' Mess. I was given free rein to produce a design which would be appropriate and of very high quality as I had been informed it was to be signed by HRH Queen Elizabeth II and other members of the Royal Household.
I knew from experience that a work of this importance would need to be done on Calf Skin Vellum to give the work longevity. The surface of vellum is superb to write on and gives a lustrous finish to paints applied on it. The heraldic designs would need to be gilded and gold leaf would also enhance the decorative border.
The design features, as well as the Royal Warrant, the heraldic badges of the Royal Air Force and RAF Marham and a decorative border based on 17th Century designs. The script in black is Gothic and is written in Chinese Ink, the coloured scripts are stylised Italic and written in two tones of gouache. The piece is about 60cm x 35cm
RAF 75th Anniversary Commemorative Scroll
HRH Queen The Duke of Edinburgh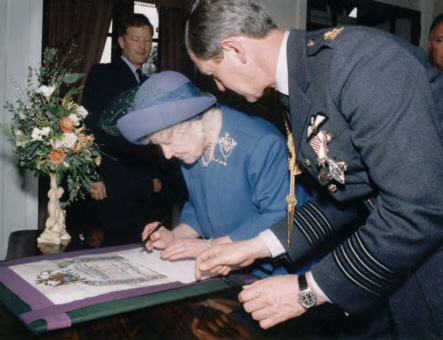 HM Queen Elizabeth The Queen Mother